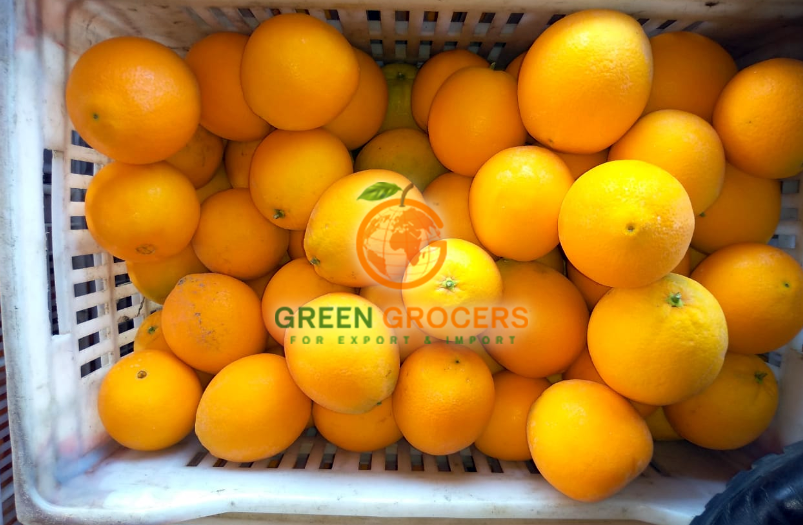 Navel Oranges from Egypt, fresh, Premium Quality for export.
Navel oranges are one the most popular, fresh-eating varieties. Sweet and easy-to-peel, they may be segmented and used as a salad ingredient or in baked goods. Pair with dried fruits, nuts, cheeses, fresh herbs, and berries. Use juice and zest to flavor syrups, curds and doughs.
The navel oranges are the earliest maturing of orange varieties, producing the seedless fruit of larger size than most others, with deep orange easily peeled rinds and a sweet & pleasant flavor. Navel oranges are seedless, excellent for fresh eating but do not have good juicing characters.
Considered to be world's finest orange for fresh eating! Very sweet and naturally juicy, of course, peel and segment very easily to complement fresh eating. -HS Code: 080510
-Treatment: Washed and Waxed and treated wit O.P.P with colored printed labels.
-Sizing: Electronic computing size.
-Variety: Navel; Egg Shape.
-Navels Acid levels: 0.9
-Navels Brix levels: between 12.5 & 14.5
-Sizes: 36/40/42/48/56/64/72/80/88/100/113 in Standard carton 15Kg.
and 20/24/28/32/36/40/44/48/54 in carton 7.5 Kg.
-package: 15 KG N.W:16 KG G.W. Standard carton.
also15 Kg N.W:16Kg G.W Open Top Carton.
7.5Kg N.W:8 Kg G.W small Carton.
also 7.5Kg N.W:8 Kg G.W
Open Top Carton.
-Availability: November until End of February
-Shipping: Reefer Container
-Want to get a discount? contact us now and book your quantity before the season starts.