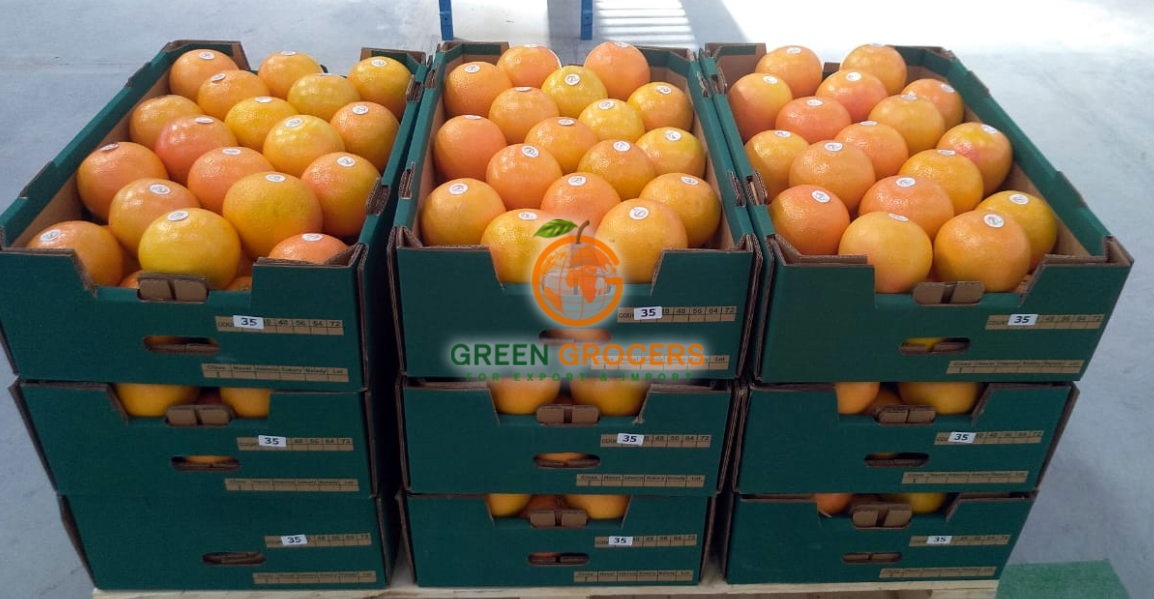 Grapefruit from Egypt by Greengrocers Premium quality, and reasonable prices.
There's nothing quite like a delicious grapefruit. This tangy citrus fruit is famous for its aromatic fragrance, but its flavor is often underappreciated. When grapefruits are ripe, they taste as sweet as oranges. It is a misconception that grapefruits are always on the sour side
All Seasons Greengrocers export crop of the Egyptian grapefruit with premium quality to export to any destination around the world. the majority of the harvest this year is Dark Red Grapefruit, this variety of Egyptian grapefruits looks like an orange shape in a bright-orange color skin with a red blush. It will be available from November until January.
The Dark Red Grapefruit is also known as Flame, Ray or Star Ruby. The fruit has an exceptionally intense dark red flesh, seedless interior and sweet flavor with very little bitterness. The rind is smooth and yellow with blush pigmentation.
Grapefruit is a tangy fruit which looks like an orange or sweet lime in its appearance. It's a citrus fruit with a little hint of sweetness. It is named grapefruit due to the way it grows – in bunches like grapes.
Grapefruit comes in white, pink, and red varieties, colors that refer to the flesh of the fruit. It`s one of the most hydrating fruits in the world made up of 91% water, low in calories but is full of nutrients, an excellent source of vitamins A, C and E, Calcium, Magnesium and Zinc, and have significantly antioxidant. So grapefruits are used as part of a healthy diet, in addition to lowering blood pressure. Vitamin C plays a vital role in the formation of collagen, the main support system of the skin.
-HS Code: 080540.
-Product: Red Grapefruit.
-Variety: Star Ruby (Dark Red) Grapefruit.
-Sizes: 25/30/35/40/45/50/55/60/65/70/75/80
-package :
15 Kg – Net Weghit – Open Top Carton.
10 Kg plastic box.
-Shipping: Sea Shipment and Air shipment.
-Availability: from November until January.